Windbender Motorcycle Windshield Options
Windbender Acrylic Options: We currently manufacture windshields for both the Honda GL1800, F6B and GL1500 Goldwings. Windbenders for Harley Davidson, FL models should be in full production by Fall of 2013. Windbender HP, ST, and LT for the FL are available in Clear or Bronze Tint. Only the HPS is currently available in Dark Smoke. All but the tallest of the HP and LT options for HD will be available in all three colors.
Most options for our Fork Mounted Windbenders will be available in all three colors.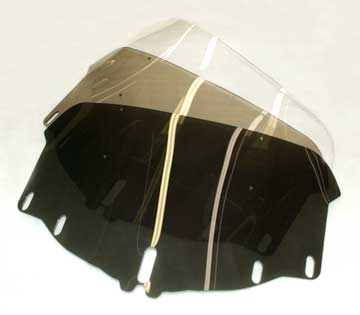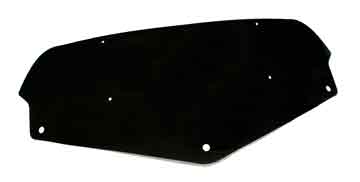 Windbender Base Units are shipped in dark smoke by default to hide the dash in lieu of the decal on the stock shield. We now offer GL1800 base units in optional clear or bronze at the same price, so you can mix and match to get the look you desire. Simply select the appropriate item from our price list during the order process.
F6B base units are only available in dark smoke to accent it's sleek look.
Hard-Coating Service
Hard-Coating for your Windbender or any other Windshield will be available when the "Buy" link is live on our Price List.
Increase visibility while reducing cleanup time. Order your Windbender with Hard-Coating, or send in any acrylic or poly windshield for Hard-Coating. With our Hard-Coating you'll be able to clean your windshield with a paper towel or gas station squeegee and dirty water. Heck, scrub it with steel wool if you like. Our Hard-Coating also aides water shedding so you can avoid waxing your shield. Grab a few of your riding friends to get a quantity discount. ETA for Hard-Coating is 30-90 days without incurring setup charges. If you need it faster, give us a call.
Firecreek Hard-Coating is guaranteed against factory defects for the life of your Windbender. Although we have an excellent track record with our Hard-Coating, we cannot guarantee customer supplied shields unless they are new in their original packaging.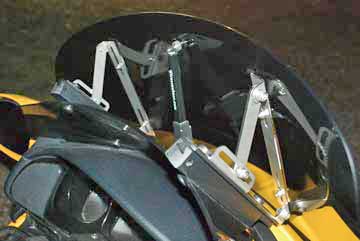 Windbender Rake Kit is an option that can be added at any time. Simply remove your Top Shield and install the Rake Kit. Fits Honda GL1800, F6B, GL1500, (and Fork Mounted Windbenders when available).
After extensive research, we have solved the minor "rough road" feeling of the HP and HPS experienced by some riders at speed!
Although most people are very happy with the excellent vision and smooth air offered by either the HP or HPS, some have found a bit of a "rough-road" feeling in their helmets at speeds above about 80 mph. We have been experimenting with various options and have come upon a solution! We have found that when standing the Windbender HP/HPS Top Shield up straighter on the GL1800 air flow gets very, very smooth; almost calm. The ride is like sitting on a park bench with a breeze blowing! Some say to watch your speedometer because it's hard to tell how fast you are traveling with the Rake Kit installed. Our experience shows that this option even helps with "dirty air" buffeting created by other traffic when the shield is raised to one or two inches below your line-of-sight - "An extreme reduction in head bobbling". This hardware option allows for such a vast amount of adjustment that everyone should be able to find improvement if desired. To see one way to modify this set-up to get the top shield low enough to let wind clear rain from your face-shield or get a breeze in your face, Click Here.
Now included with the Electric Option Rake Kits (Standard or "Low") are a pair of the same black trim pieces used on the front of your Top Shield. These are for use between the Top Shield and the Rake Kit Swing-Bracket. This will provide 3.0mm more clearance for the actuator with Standard Shield-Height Electric Option Rake Kit.
Now in stock: New, Extended-Depth Rake Kit ("Rake Kit Low") for use with the electric option that will allow you to lower your top shield with fewer modifications. The new Rake Kit provides 10mm more space between the shields allowing more clearance for the actuator when the top shield is slid down on the brackets. This option will require a slight modification to your actuator top clevis pin mounting hole (you'll have to increase the hole angle) and possibly add some white lithium grease or do some sanding on your rails to let this option move up and down smoothly see installation for more details).
Spring-Loaded Locating Pins and molded rails are now standard on all Windbenders.
ATTEMPING TO MOVE YOUR TOP SHIELD WHILE RIDING IS NOT RECOMMENDED! Even though you may be able to do it with the spring loaded pin sets, the top shield could slip out of your hands and you might lose control of your motorcycle or do damage to another vehicle. If you want to move your shield while underway, order the electric option! and move your shield with the touch of a switch.
Our new, easy to install, Electric Adjust Option for the Honda F6B, GL1800 and GL1500 is ready to ship!
Our New Electric Adjust Option is available for all Windbender windshields. It can be added to a Windbender at any time. See it Here.
Windbenders are NOW available for Harley Davidson FL models, and will be coming for Cruisers soon!
Our Exchange/Return Policy is second to none: Don't like the Top Shield version you first bought? Send it back; pay only a $50.00 restocking fee and we'll send you a larger shield for the difference in price. If your shield is too large: send it back, pay only a $50.00 restocking fee and we'll deduct the difference in price on your replacement. All Top Shield returns must be made in "AS NEW" condition or a $50 cleaning/polishing fee will apply. No refunds will be given for shields damaged beyond repair.
Trial Program: We are so sure you'll like your Windbender that we'll let you buy one, put it on your bike and take it for a few test rides to find your personal sweet spot. If you absolutely do not like it and want to return the whole kit, we only ask that you send it back to us as clean as we sent it to you. A full refund, less a $25.00 restocking fee plus any required cleaning or polishing charges, will be credited to your card. FEES: There will be a $50 polishing fee for to refresh the Base Unit of all returned Windbender kits. We don't expect the Base Shield to be perfect - it never will be after installation. If you send your kit back with a dirty or scratched Top Shield there will be an additional $50 fee to polish the Top Shield. No refunds will be given for shields damaged beyond repair.
There is no reason to settle for second best. Don't push the wind when you can bend it! Windbender, high performance windshields by Firecreek.
To see what makes a Windbender unique and to see why the split airflow design works . . . Watch our Video.
We offer three windshield designs and one retrofit for problem bikes. To see which shield is right for you read Here.
WARNING Firecreek Accessories advocates the use of proper eye protection. Even though it's entirely possible to experience calm conditions looking over the top of the Windbender windshield, as with all windshields, heavy objects like gravel or hard shell bugs can penetrate the wind layer and cause eye injury.
Made in the USA
PATENT PENDING: Copyright 2011 Firecreek Accessories, Inc. All rights reserved.