Our Windbender ST is NEW for the GL1800 and F6B!
Use these airflow characteristics and sizing methods for Harley Davidson FLH
Our Windbender LT for Harley Davidson FL does not have a recurve on the bottom. The Batwing Fairing of the FL does an excellent job of forcing enough air up the gap between the shields.
Motorcycle Windshields for Honda GL1800, F6B, GL1500, and Harley Davidson FL (1993-2013)
We've taken our classic HP windshield and turned it around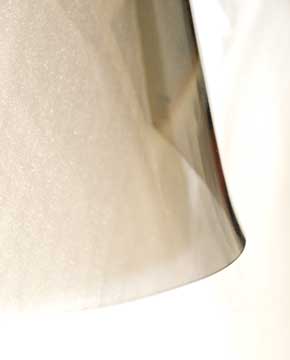 Literally! We have put our recurve on the bottom of the top-shield to force more air up the gap to raise the air flow higher. This windshield, when raised to eye-level, will even help smooth out dirty, turbulent air in heavy traffic. The ST is a Straight Top windshield with a more conservative attitude than the high performance model and has four to six inches of air lift over the top. This is a look-over, and a look-thru windshield: all in one! The ST is designed to be a flexible, "do-it-all", shield with a very smooth, buffet-free, ride at all speeds. You can ride at speed in calm luxury with your line of sight easily two inches over the top of the ST. If you want a little wind in your face you can set it lower. Because it is a straight top shield, you can also look through it at those times when you want to provide yourself or your passenger with even more protection. If the co-rider is much taller than the rider, this windshield can be adjusted up to take more wind off of them and can still be looked through by the rider. Or if you just like looking through a windshield and want better wind protection than stock, this is the one. Our shields are measured while standing in front of the bike, from the gasket at the top of the windshield garnish to the top of the windshield.
The GL1800 ST is now offered in four heights: 11", 13", 15" and 17" in their lowest positions, and two colors; clear or bronze, so you can easily choose one that fits your style. Each has a full eight inches of vertical adjustment when you include the stock adjustment. This windshield stays up front out of your way. There is no banging your forehead on it or getting irritating reflections from any of your instrumentation at night. The ST has wind protection so good that, "It is like riding in the car with the windows open. It's as close to sitting in the living room as you can get and still be on a motorcycle!"
The Windbender ST for the GL1500 performs very well and has not been changed. It is available in only one size measuring 20" at its lowest and 27" at its highest setting.
All of our top shields for the GL1800 are available for the F6B and can be interchanged between the two motorcycles . . . without tools . . . in both manual and electric adjust modes. The HP and ST sizing instructions apply to all of the motorcycles we offer shields for.
Hard Coating is now available for our Windbender or your shield. Read More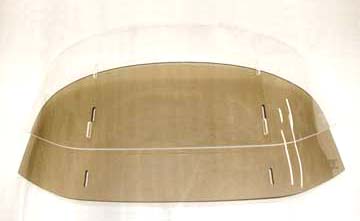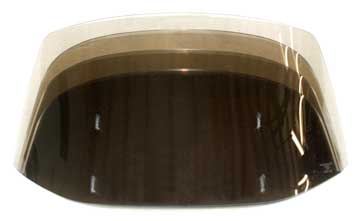 ST Sizing Instructions
The ST is a very versatile shield hat you can comfortably look 2" over the top of it at 100 mph. It also has fine optical clarity that allows you to look through the shield should you choose, or if you require the extra shield height for passenger protection. Your choice of size will depend on your line-of-sight and your specific desire to look over or through the shield. If you want a shield that will give you a little breeze in your face you'll want a shorter version - 4" or 5" below your line-of-sight in its lowest position. If you want to look through it on occasion - 2" or 3" below your line-of-sight in its lowest position will be optimal.
Our shield numbers are the measurement from the top of the windshield garnish to the top of the top shield in its lowest position.
To find this position:
Have a piece of tape in your hand and sit on your bike in your all-day slumped riding position (preferably on the side stand, or with both feet on the ground). Put that piece of tape on your windshield straight out from your eyeballs to mark your line-of-sight. Remove yourself from the bike and measure the distance along the front of your windshield from the top of the windshield garnish gasket to the mark you made for your line-of-sight. You should order an HP that is at least 4" shorter than that measurement. Six inches less than that measurement will give you even more capability to see well over the top of your shield.
Windbender ST windshields have about 7" of air lift above the top of the windshield (depending on your speed). We recommend adjusting the windshield so that when seated on the bike, the top of the Windbender is 4"-5" below your line-of-sight if you want to be able to get a breeze in your face; 2"-3" below your line-of-sight if you want to look through it on occasion. With this as the lowest adjustment available, you can move up more for riding down the interstate. When adjusted for interstate riding, the wind will be moving over the top of the rider's helmet by a few inches. This is important to the co-rider, because of their elevated sitting position they are going to want the wind at least above the face opening in their helmet. For this windshield to work as well for the co-rider as the rider, they have to be somewhat matched. For example, if the rider is very short in the body, and the co-rider is very tall through the body, along with the added height in the passenger seat, it may place them high enough in the wind stream that they will get some wind in their face. If your passenger sits taller than you, the Windbender ST is a good choice since it can be raised higher for the passenger and doesn't have any distortion for the rider to look through.
If your solo riding style requires you to look more than 2-3 inches over the shield, but your two-up riding requires the wind protection of the ST, you may want to get an HP as a second Top Shield (without the base) for solo riding. Slide one off and slide the other on. It takes only seconds and no tools are required.
Windbender ST Sizes

- Top Shield Height. This is the minimum installed windshield height.
GL1800 / F6B
GL1500
Windbender ST17 / ST
17"
20"
Windbender ST15
15"
N/A
Windbender ST13
13"
N/A
Windbender ST11
11"
N/A
Individual Windbender components are available for additional shields, replacements, spares and custom applications.
ATTEMPING TO MOVE YOUR TOP SHIELD WHILE RIDING IS NOT RECOMMENDED! Even though you may be able to do it with the spring loaded pin sets, the top shield could slip out of your hands and you might lose control of your motorcycle or do damage to another vehicle. If you want to move your shield while underway, order the electric option! and move your shield with the touch of a switch.
There is no reason to settle for second best. Don't push the wind when you can bend it! Windbender, high performance windshields by Firecreek.
Our Exchange/Return Policy is second to none: Don't like the Top Shield version you first bought? Send it back; pay only a $50.00 restocking fee and we'll send you a larger shield for the difference in price. If your shield is too large: send it back, pay only a $50.00 restocking fee and we'll deduct the difference in price on your replacement. All Top Shield returns must be made in "AS NEW" condition or a $50 cleaning/polishing fee will apply. No refunds will be given for shields damaged beyond repair.
Trial Program: We are so sure you'll like your Windbender that we'll let you buy one, put it on your bike and take it for a few test rides to find your personal sweet spot. If you absolutely do not like it and want to return the whole kit, we only ask that you send it back to us as clean as we sent it to you. A full refund, less a $25.00 restocking fee plus any required cleaning or polishing charges, will be credited to your card. FEES: There will be a $50 polishing fee for to refresh the Base Unit of all returned Windbender kits. We don't expect the Base Shield to be perfect - it never will be after installation. If you send your kit back with a dirty or scratched Top Shield there will be an additional $50 fee to polish the Top Shield. No refunds will be given for shields damaged beyond repair.
To see what make a Windbender unique and to see why the split airflow design works . . . Watch our Video.
WARNING: The wind protection can be so complete on the riders face and in some cases the co-rider, that a false sense of security can be experienced. Firecreek Accessories Inc. strongly recommends wearing eye protection at all times while riding. Even though small light bugs and light rain can be carried over the top in the wind stream, hard shelled bugs, full rain drops and rocks can penetrate the wind stream and get to the rider and co-rider.
Made in the USA
PATENT PENDING: Copyright 2011 Firecreek Accessories, Inc. All rights reserved.